What's Your Name?
Sunday, September 22, 2013 by Sally Jo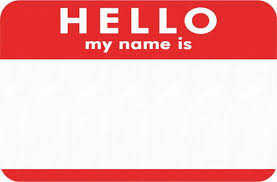 The most basic part of the background investigation is a person's name. So here is question #3 to explore.
Who gave you your name and why?
What is the meaning of your name?
Did you have a family nickname? How did you get it?
My name, Sally Jo, was picked by my mother. She said it was the name of a pretty American Indian girl in Ardmore, Oklahoma, (likely Chickasaw) and she had always liked the name. My mother was insistent that this was a double first name, not a first and middle name. Double first names seem to be a common Southern practice, i.e. Mary Jo, Billy Bob, Betty Sue. There are a variety of theories about the reasons for double names. For some it is to make it easier to distinguish the person from a relative they are named after–call them Billy Bob instead of just Bob. Or, the double names may keep relatives at peace by combining names from two different relatives. Other history points to the use of double names in the genteel aristocratic South where is was fashionable to have double Christian names.
Taken separately my name Sally is a derivative of Sarah (Hebrew) meaning 'princess.'
Jo is a variant of Joseph (Hebrew) and means 'Jehovah increases.'
My nickname is SJ or Sal, just because it's easier to spell and speak I suppose.
It's your turn. Tell us about your name.
---
---