A Teddy Bear Legacy
Saturday, March 19, 2016 by Sally Jo
The latest Teddy bear creation for my grandson, who just turned a year old.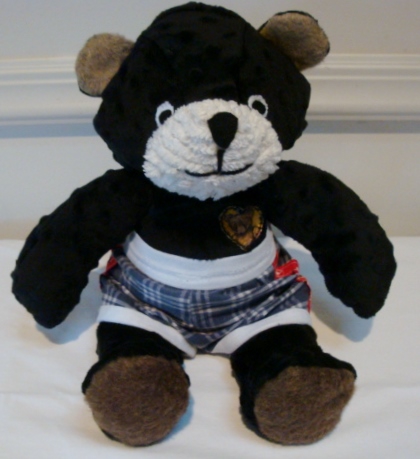 On this page I've been encouraging you to work as a PRIVATE EYE and spy out ways to leave a legacy.
You might leave a written memoir, but I've also been sharing other ideas to pass along for future generations.
As a lasting legacy for each of my grandchildren, I fashioned original teddy bears using materials that had some family meaning.
Fur used in the ears and feet are from his two older brothers' bears. The muzzle is from fabric used in his cousin's bear, the heart from a vest I made for his mother, the shorts from curtains in his daddy's childhood bedroom, and the red trim on the shorts came from decorations used at his parents' wedding rehearsal dinner.
INVESTIGATE bits and pieces from your past that might be good to pass along as a legacy.
---
---