2014
It's a new year and a good time to begin (or continue) to record your memories. (As a detective, I choose to call this process of compiling remembrances your Personal Background Investigation.)
Following is the 10th assignment , with an example, to help boost your memory. Remember, your background will be a forever treasure for generations to come.
"Do not forget the things your eyes have seen or let them slip from your heart as long as you live. Teach them to your children and your children's children." Deuteronomy 4:9
Personal Background Investigation-Assignment #10
What was a favorite sport or activity you enjoyed as a child? Why was this activity a favorite?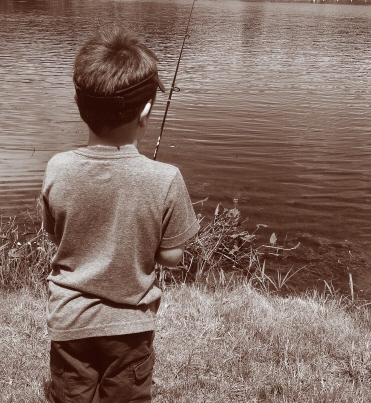 Example: Catching My First Fish
I was around four years old, when Dad took me fishing in the small pond on our property because it was too wet to plow. We went to a grassy area and "snored up" some earthworms. Using an ax, we drove a wood stake about a foot and half into the ground, then turned the ax on its side and slid it across the top of the stake. It would make a grinding noise and vibrate the ground several feet around the stake. This caused the worms to crawl out of the ground.
My job was to pick them up and put them in a can. I learned to let the worm get completely out of the ground. If I grabbed one before it was totally out, it wouldl lock itself into the ground and break in two.
Dad sat me on a large cypress stump and he fished near me. We used home-made poles Dad cut from bushes in the woods. I saw my cork go down. I pulled my pole and it pulled back. I had hooked something really big. I was slowly sliding off the stump and yelled to my dad that my "block" (what I called my cork) had sunk. He dropped his pole and grabbed my pole and me just before I plunged into the pond.
Catching that fish took a while. When we finally got it out of the water, it was the biggest fish I had ever seen in my young life. According to Dad the fish was a large mouth bass weighing about 12 lbs. I think my Dad was more proud of the catch than I. He told everyone he saw about his boy and the big fish. I think the fish got a little bigger each time he told the story too. Dad cleaned my catch which fed the entire family that night. I learned the accomplishments of your child somehow outshine your own. (A remembrance from LaVelle Pitts)
Join this SURVEILLANCE of self. Please SHARE your own memory, if you like.