Early Church Memories
Sunday, November 3, 2013 by Sally Jo
Personal Background Investigation- Assignment #6
Did you attend church as a youngster? What are your earliest memories of church?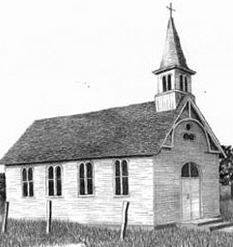 Example from LaVelle Pitts' childhood
I was exposed to a different kind of drugs as a child. My mother and daddy drug me to church whenever the doors were open. My earliest memory of church is around the age of four. My family went to an old country church in Holmes County, Florida, where services might be long. Mother always took a quilt to make a bed underneath the bench for me. When services got lively with singing, shouting and stomping of feet, I soon learned the safest place was to stay under the bench. I remember one real quiet gentleman who always sat in the same pew on the inside aisle. He generally sat looking straight ahead with an unemotional expression until the spirit hit him. He would jump straight up, give out a loud whoop and run full speed down the aisle, around the pews, returning where he started. Then he'd sit back down and resume his stoic expression like nothing had happened. Those church services left an impression and fond memories of genuine church fellowship.
---
---