Personal Background Investigation- Assignment #15
What is a lesson you learned from your mother?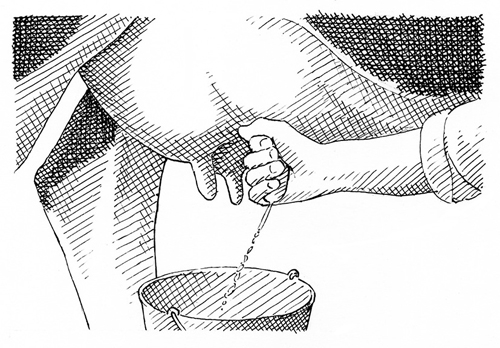 (Example)
Practical instruction on Cow Milking
Mother always sent me to milk the cow with some warm water in the milk bucket. When the cow had a young calf, it would bite the mother cow's tits and cut little nicks in them that became very sore. If you grabbed a tit to milk the cow, especially on a cold morning, she would literally kick the fatal daylights out of you. More times than I can remember, I got knocked off the milk stool and flat on my back with the bucket turned over and the milk spilled. Mother showed me how to gently wash the tits with the warm water. If you squeezed gently, there was a good chance the cow would let you get away with it.
Another of mother's rules was to always milk from the right side of the cow. If you tried the left side, look out for a swift kick. I don't know why it had to be the right side, no one ever told me. It must have been a mutual agreement between Noah and his cow, and just handed down to the present day. (Another unexplained rule is that a horse should be mounted on the left side. I don't know who made these rules, but if you try the wrong side, you'll immediately know it was a bad decision.)
Possibly the most important technique mother taught me about cow milking had to do with the cow's tail. Our cows loved to wade around in a pond in the back of the field to keep cool and get flies off their bodies. The fields had plenty sandspurs and cockle burrs that would cling to the cows' wet tails. In addition, the barnyard was wet with urine where the cows lay at night. The moisture helped embed the prickly spurs, making a cow's tail a dangerous weapon.
While milking, sometimes a horse fly or a dog fly would bite the cow and she would swipe at it with her tail. When that happened, the bushy part of her tail, wet with urine and full of sharp burrs, would wrap around my head. This inflicted pain, discomfort and scratches all over my neck and face.
Mother taught me to catch the tail and sit on part of it while milking. That wet thorny tail was very uncomfortable to sit on, but when I would forget, the cow was faithful to remind me that mother knows best. (From LaVelle Pitts, memoirs)