Designed for Love
Hamilton Harbor Legacy Series, Book 3
A new War Between the States is brewing in Hamilton Harbor, Florida. North and South clash when a local interior designer is pitted against a New Yorker in a competition that will shape the destiny of the small town.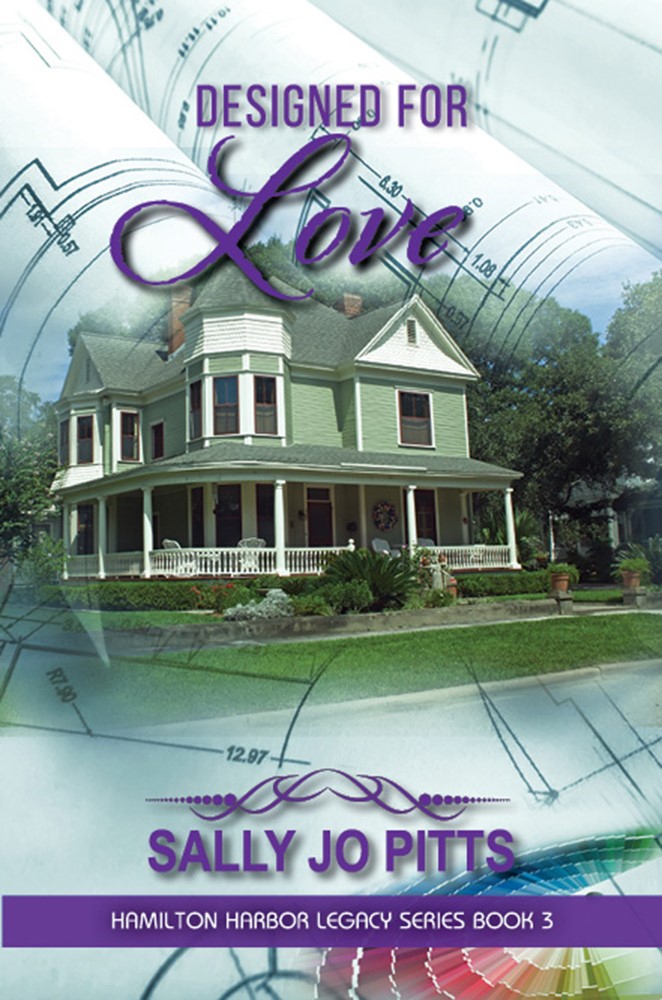 Interior designer Izzie Ketterling wants two things: to be accepted as a professional designer and to champion the preservation of the historic homes on Feldman Square in her hometown.
Reed Harrison's New York design company has directed him to gain favor with the Hamilton Harbor townspeople in order to obtain a development contract for the firm. However, the developer's plans could jeopardize the properties Izzie is crusading for.
The two enter a decorating contest fundraiser to restore the abandoned houses and Reed and Izzie are surprised to discover that opposites attract. But the competition turns bitter when their agendas collide.
Praise for Designed for Love
"Designed for Love is charming, with a touch of humor and spunk. Pitts' happily ever after tale is one for your TBR list. Don't miss it."
~New York Times Bestselling Author, Rachel Hauck
Fans of romance will love meeting interior designer Izzie Ketterling and her friends in the panhandle of Florida. You'll find yourself saying over and over, "this should be a Hallmark movie." With an authentic southern voice, an unforgettable setting, and colorful characters, I highly recommend Designed for Love.

~Debra DuPree Williams, author of Grave Consequences, A Charlotte Graves Mystery
Another Sally Jo Pitts story that delivers intrigue, hilarity, and romance intwined in a perfectly paced plot. A satisfying read from beginning to end.
~Mary A. Felkins, author of Call to Love
---
And Then Blooms Love
Hamilton Harbor Legacy Series, Book 1
What if a wedding florist discovers she's married to the groom?
She is determined to forget him …
Hurt by her former fiancé Clifton Davenport, new flower shop owner Emme Matthews, is working hard to establish a successful business and provide for the three-year-old child she is raising. Financial woes plague her, and she is forced to accept a floral job at the Davenport plantation. Not wishing to upset the event, Emme stays behind the scenes, only to learn that the dinner is to announce Clifton's engagement.
He loved her from the first day he saw her …
Plantation manager Clifton Davenport harbors deep regrets. Two rash decisions not only pushed the family business near financial ruin, but cost him his first love—the girl he knew as Mary Elaine Matthews. She has moved on and so must he. Ironically, his impending marriage to the daughter of a Brazilian oil magnate might be the salvation of the Davenport legacy and the answer to Emme's indebtedness.
A discovery threatens to change things …
Shocking news forces Emme and Clifton to face not only the past, but the love they left behind.
What reviewers are saying!
Would make a great Hallmark movie!
And Then Blooms Love develops high intensity complications in the affairs of the heart that hold the reader in tension.
There's an important message here for men, for those who are fortunate enough to get a second chance.
I loved this book. I began reading and could not put it down

---
Stumbling Upon Romance
Hamilton Harbor Legacy Series, Book 2
God gives everyone a purpose—what we make of it is our legacy.
Come visit the quaint town of Hamilton Harbor. Nestled on the bay in Northwest Florida, this sleepy community is waking up as revived businesses, new friendships and budding romances come together in the salty coastal air. But renewal also rekindles mysteries from the past and a legacy of faith and hope for the future.
Some secrets need to be uncovered …
Accident-prone dog groomer, Claudia Stewart, is a newcomer to Hamilton Harbor, Florida. She hopes to shed her black cloud image, fit in the community, and find a guy who will knock her off her feet.
Instead, Claudia and her giant schnauzer client knock handyman Pete Cullen off his feet and leave him dangling from an overhead beam.
Pete, rejected by a past love, wants to focus on restoration projects and avoid romance at all costs. But Claudia, even with her bungling ways, threatens to steal his heart.
Was their crash meeting just another one of Claudia's mishaps? Or did the encounter put them on a collision course with romance?
What reviewers are saying!
If you like a sweet, humorous love story that warms the heart, you'll enjoy Stumbling Upon Romance." USA Today est-selling author, Susan May Warren
The author drew me into a place where I would abandon all earthly possessions to live!
I loved the characters immediately and found myself laughing out loud as their relationship developed.
Stumbling Upon Romance is more than a sweet romance. The story has stayed with me since finishing it mainly because of the heroine.

---