Investigating Food Used in Novels
What fun it has been to share food scenes used by the authors in their Always a Wedding Planner romance collection.
Let's hear from Davalynn Spencer, author of Taste and See in the collection and enjoy her food scene and recipe!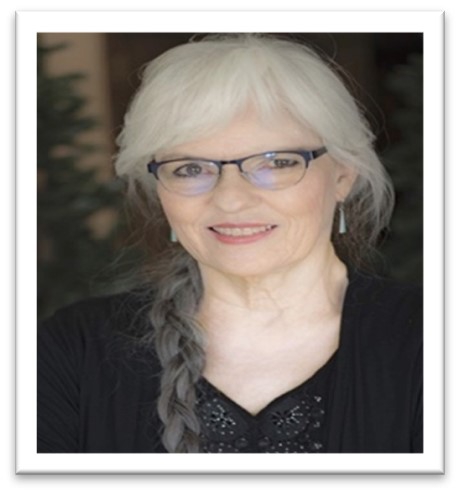 Welcome to the fourth and final installment in the series of food scenes from our upcoming release, "Always a Wedding Planner". This novella collection features four besties who own a wedding planning company in Loveland, Colorado. Release date was June 1st, but we're still actively appearing all around the 'net with parties and giveaways and blog posts, so be sure to keep an eye out for us.
It was tough choosing just one food scene for this post, but here's the one I thought you'd enjoy the most:
He followed his nose to a pan of frosted cinnamon rolls, but instead of offering him one, Ronnie slid miniature toasted basketball skins onto a fancy plate.
He folded his arms and tried not to growl. "Give me a sec here, and I'll plate a roll for you."
Plate a roll?
She held out a napkin filled with toasted leaves "Wanna try one?" No.
She looked at him. Tipped her head. Her hair fell away from her ear and a white pearl earring winked at him.
"Sure." The leaf crunched in his mouth like a real salted chip.
No bad. He took another one. "What are these?"
"Brussels sprout chips."
He would have eaten more vegetables if his mother had thought of this. He took the napkin and finished off the scoop shaped leaves, hoping to free Ronnie's hands for dishing up a roll.
She obliged, set the plate and fork on the counter in front of a stool, and poured him a cup of coffee.
She was the first client who'd ever fed him on the job, and he decided right on the spot that he could find plenty to do around her place to keep him busy until snow fell. With time off for his last hay cutting.
She poured her own cup and took the stool at the end of the counter, watching him eat. Last time he'd been watched like that, his mother was doing surveillance on his table manners.
"Aren't you gonna have one of these? They're great." He made sure to wipe his mouth on the napkin tucked next to his plate.
She glanced at the pan of icing-covered heaven like she hadn't thought of it as food. "Sure.
Yeah."
Turnaround was fair play, so he watched her closely as she used a spatula to lift a cinnamon circle from the pan and set it on another plate.
"Would you mind if I had another one?"
She flicked him a look and smiled, then served him a center roll. He used to fight with his brother over who got the center rolls their mother baked rather than those around the edge of the pan. He hadn't thought of his family this much all summer, but something about Ronnie Fare made him feel at home. And home was about family.
"What do you really think?" She slid a forked-off bite in her mouth.
"I think they're great."
She waved her fork in a circle while she chewed, then asked. "I mean specifically. How would you describe the taste, the smell?
Too much cinnamon? Too much cream cheese in the frosting?" Was she kidding?
"They taste like home. Like what my mom used to make when I was a kid and I'd sneak a taste of frosting from the bowl if she wasn't looking."
And now the featured food: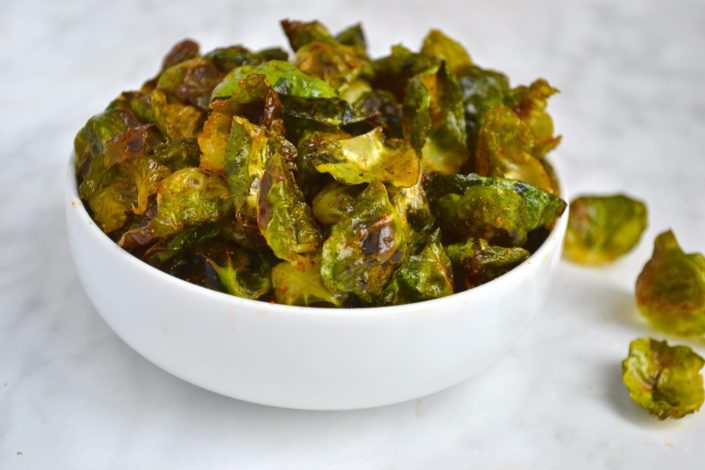 Brussels Sprout Chips
Recipe under Investigator's Blog/Investigatin' Recipes listed above or Click here.
About Taste and See
Food had always been more than mere sustenance to chef Saffron "Ronnie" Fare. Her grandmother and mother had taught her that presentation and preparation were equally important. All the senses should be pleasantly affected by a meal, appetizer, dessert, or beverage.
Well, all except maybe hearing, unless one included the oohs and aahs of wedding guests enjoying skillfully prepared delectables.
However, Ronnie's favorite thing to make was cinnamon rolls – something rarely if ever requested by a bride or groom. But she had no problem coming up with variations for her newly acquired cowboy handyman, Ty Ellicott, who fairly drooled over anything she offered him. She kept a close eye on him as her unofficial taste-tester because her eyes and hearing were about all that worked like they were supposed to.
Ty, a long-time bachelor by choice knew more about cattle and nylon ropes than anything else, but he also knew a thing or three about barbecuing. His solitary way of life left him most often with a microwaved store-bought burrito for dinner, but on occasion, he'd fire up the grill and demonstrate what could be deliciously done with a choice beef steak.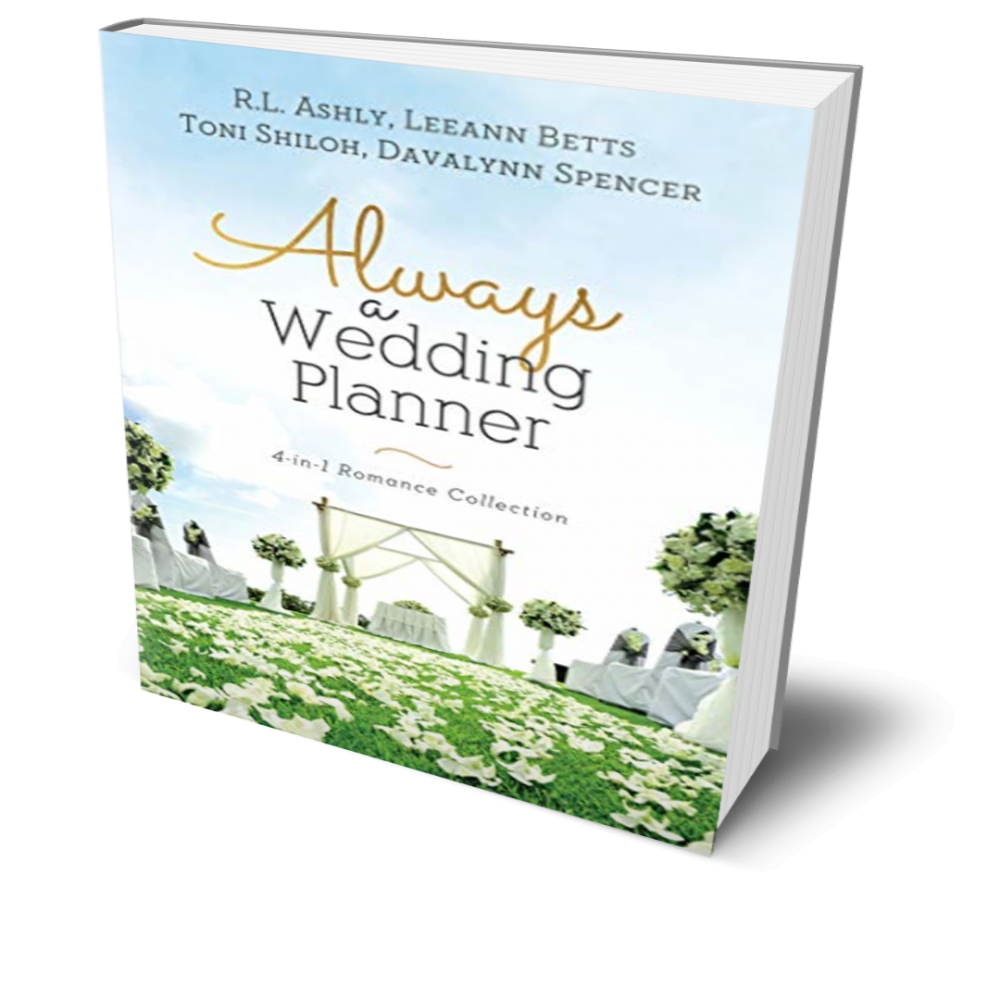 About the collection:
Can four contemporary wedding planners break the jinx of singledom, or are they destined to witness the weddings of others?
Business partners Felicity Anderson, Kiki Bell, Cassie Blackthorn, and another who has yet to be named are best of friends in Loveland, Colorado—a romantic wedding destination for many couples—and they work together to make every bride's special day the most important of their lives.
But each of the women hides a secret from the others, one that threatens their business, their friendship, and their happiness.
Can they work out their differences, build on their strengths, and trust each other—and God—with their futures?
About the author:
DAVALYNN SPENCER is a Publisher's Weekly and ECPA bestselling author with novellas in three Barbour collections, The 12 Brides of Christmas, The 12 Brides of Summer, and The Cowboy's Bride. She won the Will Rogers Gold Medallion for Inspirational Western Fiction and is the author of ten additional titles, both contemporary and historical. She blogs monthly for Christian Authors Network, Heroes, Heroines & History, contributes to the American Christian Fiction blog, and writes her own weekly inspirational blog. She appears on an area radio broadcast, Write Time Radio, and teaches writing workshops when not wrangling Blue the Cowdog and mouse detectors Annie and Oakley.
Free Book and Quarterly Author Update: https://landing.mailerlite.com/webforms/landing/h3d8g8
Blog: https://davalynnspencer.com/subscribe/
Website: https://www.davalynnspencer.com
Facebook: https://www.facebook.com/AuthorDavalynnSpencer
BookBub https://www.bookbub.com/profile/davalynn-spencer
Goodreads: https://www.goodreads.com/author/show/5051432.Davalynn_Spencer
Pinterest: https://pinterest.com/davalynnspencer/boards/
Amazon Author: https://amazon.com/author/davalynnspencer
CAN: http://christianauthorsnetwork.com/davalynn-spencer/
Instagram https://www.instagram.com/davalynnspencer/
Twitter: https://twitter.com/davalynnspencer