Attitude and health link together
Sunday, January 15, 2023 by Sally Jo Pitts
Investigating Food Used in Novels
This month, in place of a novel food scene, I'm featuring William A. Zahler's new book, Happy Immunity (that I wrote a foreward for) along with a quick and easy healthy recipe.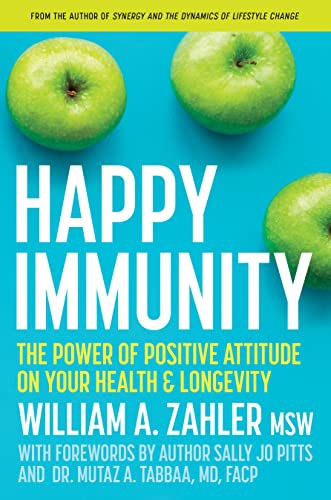 Positive attitude affects health and longevity.
Below is a a list of some of the factors stressed by Zahler to build resiliency:
Adopt an attitude of gratitude
Be altruistic rather than self-centered
Treat problematic circumstances as a learning process
Learn to unwind and relax- listen to your favorite music, watch a good uplifting movie, sit with your favorite dog or cat
Find time to move and exercise- take a walk or bike ride
Sleep 7 to 8 hours nightly
Eat a healthy diet, focusing on consuming plants (vegetables, fruits, whole grains, nuts, seeds, beans), and avoid processed food like sugar, white bread, white pasta, pastries, and processed packaged foods.
A sobering thought from Zahler:
"If you are of a mind that you have 'no time' for healthy eating,
at some point you will be making time to attend to your illness."
Here is a a healthy quick and easy food to try:
TACO SOUP, QUICK AND EASY
For the recipe, Click Here.
---
---