This month's investigation features a favorite recipe and excerpt from author Kathy Harris's latest novel, Deadly Commitment—a suspense with characters caught up in a world of deception and danger.
I love this review comment. "I was so caught up in the story I almost burned dinner."—Patricia Bradley, author of the Memphis Cold Case novels.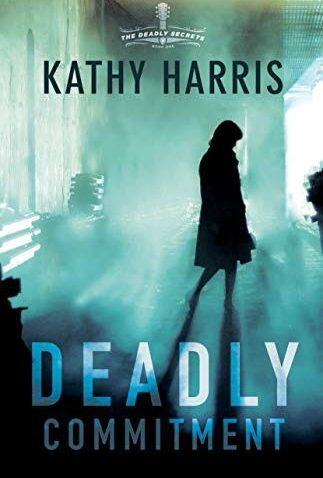 PROLOGUE
"Grace . . . No!"
The words ripped Danni from her sleep. Pulling herself closer to the wall, she listened, trying not to breathe.
"Let me go!" Her mother screamed.
Danni clutched her pillow. Please, God—
"Grace . . . the girls . . ."
"Don't touch me!"
The repugnance in Grace Kemp's voice burrowed into her six-year-old daughter's heart. How could a mother turn against her family? Then Danni remembered. Everything had been okay until Chloe was born.
She turned her head, listening for the slow, methodic breathing of her baby sister, who slept less than ten feet away. Danni prayed the two-year-old wouldn't wake up. If she started crying, it might bring even more trouble their way.
The conversation in the next room spiked once again, inching Danni back toward the wall. Mom will be fixed soon. Hadn't Daddy promised? But the arguments had become more frequent. The shouting often kept her awake at night.
"Get your hands off me!" Her mother screamed. "And get out of the way!"
"Grace . . . you can't leave—"
"Just try and stop me!"
The door in the next room slammed, and Danni startled. Leaving? Her mother was leaving? Danni had to stop her. She would tell her how much she was needed. And that she would do more. She would take care of Chloe . . . and clean her room. Please, God. My mama can't leave!
Throwing back the covers, Danni placed one foot on the floor. Then the other. Moving too quickly might awaken the panic that would bring the darkness, and she didn't have time for that right now. She had to get to her mom.
Danni inhaled the cool air of her bedroom, filled her lungs, and then expelled hot breath through her clenched teeth. Just as the doctor had told her. He'd also told her to think about something good—the zoo, the park, even church when they attended as a family. Just the three of them before Chloe was born. Those things could . . . No, they would . . . happen again.
She would tell her mom. She would stop her. She had to get—
Danni's stomach started churning. No . . . not now. The room began to spin, and she reached for the edge of her bed. If she could just sit down for another minute. But it was too late. Her legs folded, and as the darkness overtook her, she fell to the floor.
# # #
Excerpt from Deadly Commitment, New Hope Publishers/Iron Stream Media (October 2019) © 2019 Kathy Harris All rights reserved.
Strawberry Pandowdy
This is a favorite of Kathy's — an easy dessert recipe and a perfect way to end a spring or summer meal.