Investigating words that inspire

September's word of inspiration is H A R M O N Y.
Quote of the month:
Do something wonderful, people may imitate it. ~ Albert Schweitzer
Click to tweet:
Do something wonderful, people may imitate it. ~ Albert Schweitzer
What an idea from Albert Schweitzer! He was a theologian, organist, writer, humanitarian, philosopher, and physician. He received the 1952 Nobel Peace Prize for his philosophy of "Reverence for Life." And his idea of doing something wonderful so people might imitate it brings with it a picture of amity, friendship, fellowship and cooperation—harmony.
In pursuit of becoming a writer in the Christian community, I've have been amazed at the number of authors who extend a helping hand and share wonderful tips. So, in the interest of harmony, if you are asked to do a book interview or news release, I want to share the news release I provided and the results of a newspaper interview to offer ideas in handling questions and answers.
Book News Release Example:
For Immediate Release
A ROMANCE MEN CAN LOVE?
What if a wedding florist discovers she's married to the groom? This is the story question author Sally Jo Pitts used in her debut novel published by Elk Lake Publishing, Inc. "I write what I like to read—faith-based stories of romance with an unusual twist."
Readers, men and women, are saying And Then Blooms Love keeps you wanting to know what happens next.
New York Times and USA Today bestselling author Rachel Hauck says, "And Then Blooms Love is a faith-filled story of first love finding a second chance. Don't miss this tender and well-told debut."
Sally Jo brings a career of experience in affairs of the heart to the fiction page. She is a retired guidance counselor with over twenty years teaching experience in the field of marriage and family living. She is also a private investigator, working for her husband's agency, and is a certified lie detection examiner. She loves to pick her husband's brain about investigations and stir up fiction with facts.
Set in fictional Hamilton Harbor in the crook of northwest Florida's Panhandle, And Then Blooms Love is first of the planned Hamilton Harbor Legacy series. Tucked behind Main Street is Feldman Square where six early 20th century homes serve as a backdrop to reveal secrets from the past, and residents learn valuable lessons in restoration, faith, and love.
The first book takes the reader inside one of the houses that has been restored and now serves as a flower shop and home to new owner Emme Matthews. Hurt by her former fiancé, Clifton Davenport, she is working hard to establish a successful business and provide for the three-year-old child she is raising. Financial woes plague her, and she is forced to accept a floral job for a special dinner at the Davenport plantation. Not wishing to upset the event, Emme stays behind the scenes, only to learn that the dinner is to announce Clifton's engagement.
Plantation manager Clifton Davenport harbors deep regrets. Two rash decisions not only pushed the family business near bankruptcy but cost him his first love—the girl he knew as Mary Elaine Matthews. She has moved on and so must he. Ironically, his impending marriage to the daughter of a Brazilian oil magnate might be the salvation of the Davenport legacy and the answer to Emme's indebtedness.
But shocking news forces Emme and Clifton to face not only their past, but the love they left behind.
To receive a free first chapter of And Then Blooms Love, go to Amazon and pick up a 99-cent copy of The Winter Solstice Bride—a Hamilton Harbor Legacy Prequel. The short story introduces one of the most intriguing founding families in Hamilton Harbor whose name will be attached to a park in the future. The legacy of this couple precedes faith lessons to be learned.
For book clubs and study groups, And Then Blooms Love includes reading group discussion questions. The book is available on Amazon or locally at Granny Cantrell's restaurant, $11.00. To learn more about Sally Jo and her writing, visit her website at www.sallyjopitts.com
Click to Tweet: Book news release example
Resulting Newspaper Book Release Article:
This news article came out August 3, 2018, Panama City News Herald, in the Entertainer insert.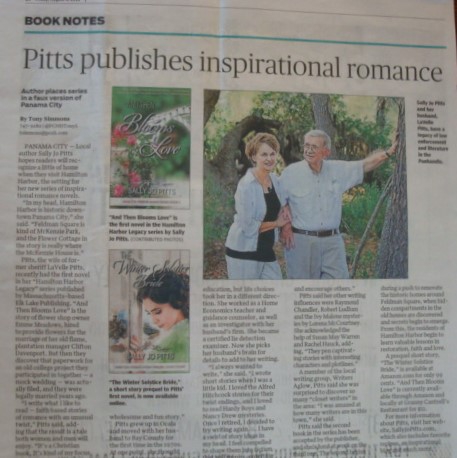 Local author Sally Jo Pitts hopes readers will recognize a little of home when they visit Hamilton Harbor, the setting for her new series of inspirational romance novels. "In my head Hamilton Harbor is historic downtown Panama City," she said. "Feldman Square is kind of McKenzie Park, and the Flower Cottage is really where the McKenzie house is."
Pitts, the wife of former sheriff LaVelle Pitts, recently had the first novel in her "Hamilton Harbor Legacy" series published by Massachusetts-based Elk Lake Publishing. "And The Blooms Love" is the story of flower shop owner Emme Matthews, hired to provide flowers for the marriage of her old flame, plantation manager Clifton Davenport. But then they discover that paperwork for an old college project they participated in together—a mock wedding—was actually filed, and they were legally married years ago.
"I write what I like to read—faith-based stories of romance with an unusual twist," Pitts said, adding that the result is a tale both women and men will enjoy. "It's a Christian book. It's kind of my focus to create a good, fresh, wholesome and fun story."
Pitts grew up in Ocala and moved with her husband to Bay County for the first time in the 1970's. At one point, she thought she would major in English education, but life choices took her in a different direction. She worked as a Home Economics teacher and guidance counselor, as well as an investigator with her husband's firm. She became a certified lie detection examiner. Now she picks her husband's brain for details to add to her writing.
"I always wanted to write," she said. "I wrote short stories when I was a little kid. I loved the Alfred Hitchcock stories for their twist endings, and I loved to read Hardy Boys and Nancy Drew mysteries. Once I retired, I decided to try writing again … I have a swirl of story ideas in my head. I feel compelled to shape them into fiction that will inspire, entertain and encourage others."
Pitts said her other writing influences were Raymond Chandler, Robert Ludlum and the Ivy Malone mysteries by Lorena McCourtney. She acknowledged the help of Susan May Warren and Rachel Hauck, adding, "They pen captivating stories with interesting characters and plotlines."
A member of the local writing group, Writers Aglow, Pitts said she was surprised to discover so many "closet writers" in the area: "I was amazed at how many writers are in this town," she said.
Pitts said the second book in the series has been accepted by the publisher, and she's hard at work on the third one. The second begins during a push to renovate the historic homes around Feldman Square, when hidden compartments in the old houses are discovered and secrets begin to emerge. From this, the residents of Hamilton Harbor begin to learn valuable lessons in restoration, faith and love.
A prequel short story, "The Winter Solstice Bride," is available through Amazon. The book is available on Amazon and locally at Granny Cantrell's Restaurant for $11.00. For more information about Pitts, visit her website, SallyJoPitts.com, which also includes favorite recipes, an inspirational blog and much more.

And for a recipe that uses a wonderful harmony of flavors, check out my Butternut Squash recipe.
Harmonious, Flavorful Butternut Squash Soup
Click to tweet: Great Butternut Squash Soup recipe
For the recipe, click on "Investigatin' Recipes" above.