Investigating words that inspire
May's word of inspiration:
P E R S P E C T I V E
Quote of the month:
The harder the conflict, the more glorious the triumph. ~ Thomas Paine
Last month I took on the ambitious task of tackling the Auto-Immune Protocol (AIP) diet in hopes of finding help for rheumatoid arthritis with its accompanying inflammation.
The AIP elimination diet cleanses the body by eating nutrient-dense meats, vegetables and fruits. When various food items are gradually restored to the diet, hopefully those that cause sensitivity (in my case, inflammation) can be isolated.
So, here is my report. During the 30-day experiment I was also on inflammation reducing meds from the doctor. One, prednisone, has tapered off. (Staying on prednisone has too many adverse side effects.) My symptoms went away during April on the diet and meds. Once the meds tapered and I introduced an eliminated food, the symptoms returned.
I started with tomato. Tomato is one of the nightshade vegetables that can cause sensitivity. I read that cooking the tomato, such as in a sauce, can reduce its adverse effects. I next introduced whole-grain bread.
Although this is far from a controlled experiment, I do see food and diet in a whole new perspective. Since my symptoms have returned, I am now looking to the best research on the likely foods to avoid and best to eat to keep inflammation under control. We are what we eat , and I believe food can be a key element in avoiding many health problems.
I also have read The Live Pain Free Cookbook by Jesse Cannone, Eat to Live by Joel Furman and The Forks Over Knives Plan by Alona Pulde and Matthew Lederman which gives meal planning help and food suggestions that help with many ailments including inflammation.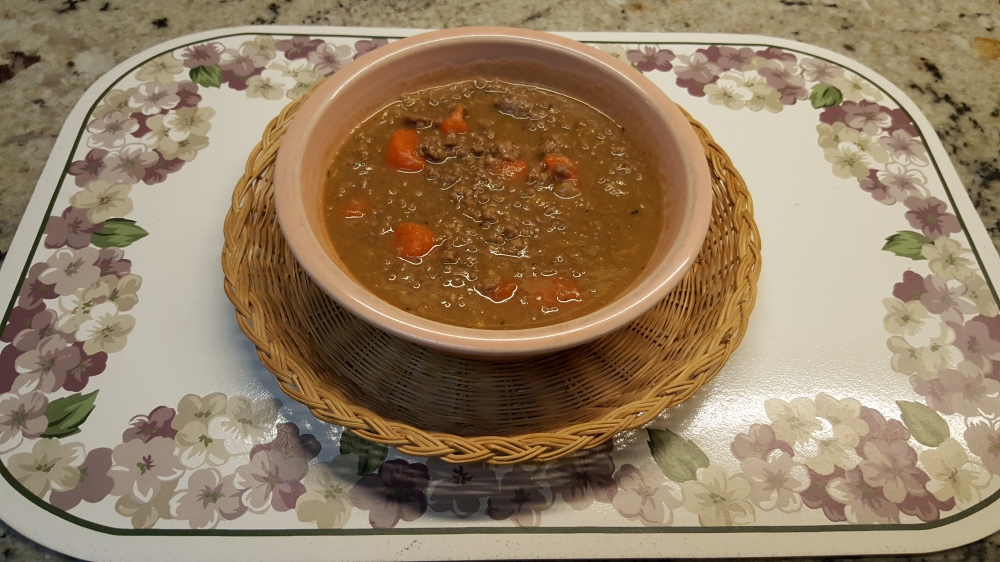 So, concentration on diet resulted in this month's word—P E R S P E C T I V E. It is a good idea to keep the role of diet in perspective. I view what I eat now as a possible set back or a way to heal.
This month's recipe features chili in a new perspective. It is made with carrots and sweet potato instead of tomatoes and beans which are eliminated on the AIP protocol.
*(See Investigatin' Recipes for the recipe.)