Envision: January's inspirational word
Tuesday, January 9, 2018 by Sally Jo
Investigating words that inspire.
January's word of inspiration: E N V I S I O N
Quote of the month:
In order to succeed, we must first believe that we can. ~ Nikos Kazantzakis
After all the sweet treats of Christmas, e n v i s i o n a healthy cookie!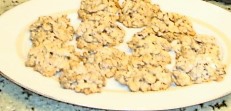 ---
---